The Photobook Editing Workshop at Le Space limited to 10 places is now sold out.
SATURDAYS 4, 11, 18, 25 MARCH 2023 | 10 AM – 1PM | $250
The aim of the workshop is to edit a selection from a wider body of work to use in a photobook format and to consider the design elements of book making, construction and presentation which will be fitting for the project. Each session will be led by a different guest who will share knowledge in their area of expertise.
To submit, please send 5-10 images from the body of work you wish to workshop along with a one-paragraph project statement to erinleephotog@gmail.com and pay through the link at the bottom of this page.

Workshop Facilitator
Erin Lee
Erin's photobook Este Lado, This Side was shortlisted for the Lucie Foundation Photobook Prize, the Perimeter x Photo 2020 International Photobook Prize, Kassel Dummy finalists and is included in The Photo Book Museum, Cologne. Her handmade books were funded by the City of Melbourne artist grants and self-published. Erin teaches at PSC and has run workshops on photobook editing and visual language. This workshop is one of the outcomes from an artist residency at Le Space in 2022.
Workshop Co-Facilitator
Ying Ang
Ying is a photographer, author, educator and the director of Le Space. Ying's self-published photobooks Gold Coast & The Quickening have won multiple awards including the 2014 New York Photo Festival, Belfast Photo Festival 2021 and the silver award for the BIFA Documentary Photo Book Prize 2020. She is on the teaching faculty at the ICP in New York City and is the Director of Reflexions 2.0, a photographic masterclass based in Europe.
SESSION ONE: Isabella Capezio & the Asia Pacific Photobook Archive
Isabella Capezio is a photographer, artist and lecturer currently completing PhD research that engages with themes of visibility, invisibility and queering practices in landscape photography and archives. She is also the co-director of The Asia Pacific Photobook Archive, a not-for-profit archive of self-published and independent photobooks created in response to the boom in photographic self-publishing globally and established to provide a 'real' way to see photobooks that would otherwise only be viewable online. The archive is housed at Le Space and will be accessible throughout the workshop.

Introduction to photobooks
Presentation and analysis of a range of photobooks to explore ways of sequencing images and design formats.
Discussion
Why make this body of work into a photobook?
Who do you want your audience to be?
Comparison of self-publishing, entering competitions and approaching publishers.
You will need to . . .
Introduce yourself, your project and why you're making a photobook.
You will receive. . .
A comprehensive list of photobook publishers and photobook competitions.
SESSION TWO: Conceptualisation & Editing
Katrin Koenning
Katrin's debut publication Astres Noirs made in collaboration with Sarker Protick won the Australian Photobook of the Year Grand Prize 2016, was shortlisted for the Paris Photo Aperture Foundation Photobook Awards and the Prix Nadar also in 2016. Katrin also gives workshops in photographic practice and thinking.
Defining the concept
What kind of narrative will the book follow?
Which 5 images can summarise and condense your story?
What is the importance of these 5 images and how is each one a 'story pillar'?
Discussion
This session will be focused on editing a selection from the wider body of work to use in your photobook and experiment with different sequencing techniques.
You will need to bring. . .
A selection of photographs printed at 4x6" divided into Groups A, B & C.
Group A – essential to storytelling
Group B – create rhythm and dynamism but not essential
Group C – outtakes which may come back to life
Have written a short sentence on the back of each print about why you included it in Group A, B or C.
You will receive. . .
A PDF guide on how to use Adobe Bridge to label and sequence images and how to use Adobe InDesign to create a digital book dummy.
SESSION THREE: Sequence Review & Feedback
Juan Brenner
Juan's first monograph, Tonatiuh was shortlisted for the 2019 Paris Photo – Aperture Foundation First Photo Book Award and published by RM Editorial. For the same project, he was the winner of LensCulture's 2019 Emerging Talent Award. He has since published a second book, The Ravine, the Virgin and the Spring with U.S. based editorial, Pomegranate Press.
Discussion
This session will be dedicated to each participant presenting their digital book dummy and receiving feedback.
You will need to . . .
Present a digital dummy of your photobook sequence.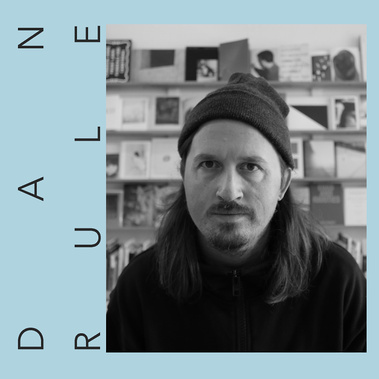 SESSION FOUR: Design elements
Dan Rule
Dan Rule is a publisher, writer and editor, and also the co-director of Perimeter Books, Perimeter Distribution and Perimeter Editions, for which he has published, edited and written over 50 books on contemporary photographers and artists from around the world.
Design elements in photobooks
Presentation and analysis of design elements such as fonts, paper types and book structures, and ways to combine text with photography.
Discussion
This session will be focused on which design elements will be most suitable for your photobook. Then create a 'Design' mood board for your projectincluding a key colours palette, font research and options, text inclusion ideas if applicable, cover materials and binding options.
You will need to bring . . .
A digital dummy of your revised sequence.
A printed version of the dummy pages.
You will receive . . .
A PDF guide on file preparation for final documents and print file setup, an overview of printers, binding, and the best places to go.